What to bring & wear?
Posted On October 17, 2010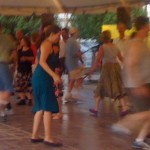 Energy and Enthusiasm! Wear comfortable lightweight clothes, since this is an aerobic activity and you will get warm! (Like most sports & dance styles, contra involves relatively close contact with lots of other people – holding hands, ballroom position, etc.) Typical dress ranges from shorts or slacks and t-shirts to twirly dresses (they're cooler!). Please carry in a pair of clean, soft-soled shoes that will not damage or mark the floor.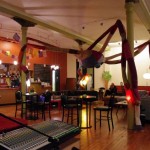 Bring a water bottle of water!  For more flavor & refreshment, the Cafe at Earth House sells coffee, tea, smoothies, and light snacks, usually to 9 p.m.
Admission is normally $5 general, $4 members, $3 for those under 25. It's usually $1 more when the band or caller travels from more than an hour away.
Need to save money? Admission is free for those who do setup and cleanup. We always have live music so need help with speakers, microphones, and fans, plus sweeping the floors and staffing the admission table; no experience is needed.
Callers and band members can dance for free in any quarter they perform, and can bring one person free on any night they perform. (Open Band doesn't earn free admissions, sorry.)