Cyrus Place
We have rented the 2nd floor of Cyrus Place. From the red door in the alley, go pass the cafe (which might be open and recommended to support) and through the wedding venue veering towards the right side. Through the door, go up the stairs until you reach the welcome table. There is no elevator.
Parking
Free parking. All visitors may utilize the Lot A, B, or C after 5pm.
The parking garage at 101 N. New Jersey St. is also available, but it will not be free.
Do not park in street parking if it's marked as a RESIDENTIAL PERMIT PARKING.
For further details on parking and directions, click
here
.
Hoosier Partner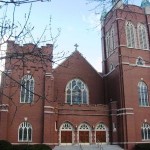 Zion Evangelical United Church of Christ
Interactive maps: Google , MapQuest
603 North New Jersey Street  Indianapolis, IN 46202. On the northeast corner of East North Street, diagonally northeast of the Murat (new name: Old National) Theatre.
Site of Hoosier Partner weekend and previous years' Gypsy Moon Balls.
Park in the church lot, it's just north of the church on New Jersey St.
Use the door nearest the handicapped parking spaces & wheelchair ramp.
Closest to IndyGo routes 2, 5, 10, and 17. Use the Murat, aka Old National Centre, in their trip planner.
Other locations: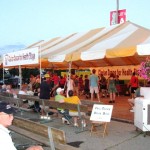 Dance Stage – Indiana State Fairgrounds –  Dance Stage
Interactive maps: Google , MapQuest;   Fair map
We dance at the Indiana State Fair once every August, on the Dance Stage.