Interactive maps:  Google,     MapQuest
1001 Hosbrook St., Indianapolis, IN 46203. On the southwest corner at the intersection of Grove and Hosbrook.
We dance here Tuesday night dances and occasional weekend events, as of April 1, 2014.
Closest to IndyGo routes 12 & 16.
Hoosier Partner/Gypsy Moon Ball: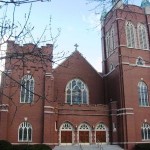 Zion Evangelical United Church of Christ
Interactive maps: Google , MapQuest
603 North New Jersey Street  Indianapolis, IN 46202. On the northeast corner of East North Street, diagonally northeast of the Murat (new name: Old National) Theatre.
Site of Hoosier Partner weekend and previous years' Gypsy Moon Balls.
Park in the church lot, it's just north of the church on New Jersey St.
Use the door nearest the handicapped parking spaces & wheelchair ramp.
Closest to IndyGo routes 2, 5, 10, and 17. Use the Murat, aka Old National Centre, in their trip planner.
Other locations: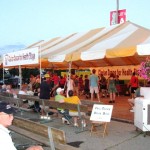 Dance StageIndiana State Fairgrounds –  Dance Stage
Interactive maps: Google , MapQuest;   Fair map
We dance at the Indiana State Fair once every August, on the Dance Stage.