special contra dance at IUPUI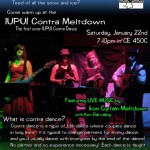 Join Iron Curtain Meltdown, Ken Gall, and fellow dancers in a free outreach event introducing IUPUI students to contra dance.
We'll dance 7 – 10 p.m. (yes, an extra hour of dancing, starting extra early) on Saturday, January 22, 2011, in Room 450C of the IUPUI Campus Center (420 University Blvd., between Michigan and Vermont Streets).
Parking at IUPUI is almost entirely not free (though the dance is!), see their maps & info. In Vermont Street Garage (building west of, and attached to, the Campus Center) parking will run about $4 – $6 for the evening. Meters (on Univ. Blvd.) run $0.75/hour. On this somewhat helpful map, the Campus Center is just South of the pink colored Hospital area (Red H's) but appears not to be labeled.   On this largely unhelpful map, the Center is & parking is yellow XB.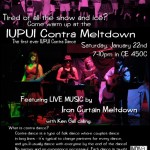 So, back to the fun part. This dance is an opportunity to introduce lots of new people to contra.
Regular dancers, please be ready to be helpful; dance with lots of new folks, and help them out by keeping it simple, showing them what to do, and being good role models!