Change of Plans: Atlantic Crossing 3/22!
Posted On March 11, 2011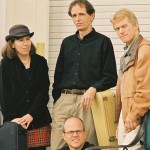 Vermont based Atlantic Crossing is going to play for our contra on Tuesday 3/22, bringing us some traditional, "New England roots" music to dance to.  They have 15+ years experience playing for dances, concerts, and contra dance weekends & special events, & will have copies of at least some of their 5 CDs available for purchase at very reasonable prices. Audio clips are available on their site.
We're re-scheduling Open Calling to March 29, and may move around other details to accommodate this unexpected bonus. But rest assured, we're dancing Tuesday nights!