7/12 Hoosier Hill Boys & Frank.
Posted On July 5, 2011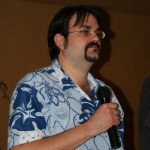 This week we have music by Hoosier Hill Boys, and calling by Frank Buschelmann.  Coming from Lafayette (Craig Stinson),  Bloomington (Rich Walter), and Indianapolis (Dave  Schroeder) this group of pickers bring strong backgrounds  from bluegrass and American mountain music to form a  sound that can only come from Indiana.  Hard-driving tunes, plenty of improvisation, and the occasional singing outburst makes this band both fun and unpredictable.
No board meeting this week. We're postponing it to the 19th.
Please bring a water bottle and dress coolly! It's been very hot, and we have to carry the jug of water up the stairs; we want everyone hydrated, but 5+ gallons of water are heavy!