Valentine's Day Contra & couple dancing
Posted On February 7, 2012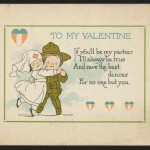 Entwyned will start playing waltzes & other couple dances by 7:15. Caller Doug Becker will have some contra dances for us starting at 8. Come on out! Lovers of community, friends, family, dance & music are always welcome!
As always, you don't need to bring a partner or Valentine; we change partners every dance (though of course a few will "save the best" for their Valentines).
We've got chocolate treats coming, other sweet contributions welcome.