September 2015
Posted On August 28, 2015
This month Indy Contra has five Tuesday dances, and cooler fall weather means a cooler dance floor.
Registration is open for Gypsy Moon Ball, October 23 – 25! There's a flier & form at the end of this email, and lots more on our website, with online registration coming soon.
Music by Gallimaufry & Turnip the Beet, calling by Susan Kevra & Maggie Jo Saylor.

September 1
Convolution with Steven Janowiecki
Our last chance to dance to Steven's calling before he moves to Australia. Hopefully he'll call his new backwards contra. No word yet on whether Convolution, Ben Smith and Dianna Davis, will play backward.
September 8
Deb Shebish and Johnandrew Bellner with Ken Gall
Come celebrate the release of Deb's new CD, Kitchen Fiddle, fresh old-time and Irish fiddle from Indiana! Pretty sure they'll autograph copies at the break, so you might want to buy several and get your holiday shopping done early.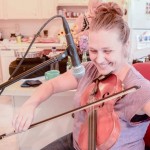 September 15
Emily Ann and Kelly Thompson with Rhonda Minnich
Emily Ann and Kelly are back from touring around Montana and Michigan, and happy to be back home in Indiana playing for their home crowd!
September 22
No Jerry with caller tbd 
"No Jerry" is Tom Cunningham (fiddle) and Ben Andrews (guitar). If there were a Jerry, they would be Tom and Jerry or Ben and Jerry, but they're not. Tom is a member of the nationally known contra dance band the Coffee Zombies and Ben is a member of the gypsy jazz band Swing 39 and organizer of the Django Jamboree. They're both from Louisville and if there were no hybrid vehicles, there would be no "No Jerry."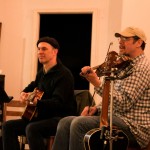 September 29
Troika
"Troika : a group of three people, things, countries, etc."  Sarah, Dianna, and Adam bring wild rhythms of Balkan dance traditions to our American traditional dances.