July 2015
Posted On July 2, 2015
Join Indy Contra every Tuesday night in July, and get ready for our State Fair contra in August!
July 7
Convolution and Kristen Planeaux, with Ken Gall
Kristen, a member of The Ripples and Mulberry Street, joins Dianna Davis & Ben Smith, and Ken returns from a trip calling in Maryland, New Jersey, North Carolina, Virginia, and West Virginia!
July 14
Deb Shebish and Johnandrew Bellner, with Rhonda Minnich
Check out Deb on Soundcloud!
After the dance, Ken & Carole Gall host their annual ice cream social, at their home near the canal. Directions available at the dance.
July 21
Emily Ann and Kelly Thompson, with Adam Nichols
July 28
Triple A, with Bradley Smith
We have a visiting band! Triple A is Andrew VanNorstrand of Great Bear Trio & Giant Robot dance (on guitar & fiddle), Audrey Knuth (on fiddle& eet), & Amy Englesberg (on keyboard & accordion – no, not fiddle or feet). They're on a fifteen day tour & we're lucky enough to be one of their ten stops! They're also playing the next night, Wednesday the 29th, in Bloomington.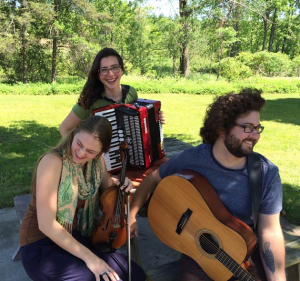 Coming in August:
Friday the 7th, contra at the Indiana State Fair