April 2015
Posted On April 3, 2015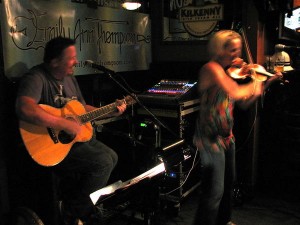 Tuesday, April 7th
Emily Ann and Kelly Thompson with Rhonda Minnich
Emily Ann and Kelly Thompson play Celtic & Old Time, fast, high-energy jigs and reels, captivating airs and songs, with perhaps classical or jazz influences. Rhonda Minnich calls. Rhonda, Indy Contra's unofficial photographer, will be doing the calling tonight.  She's been not only calling at Indy Contra, but hitting the open calling around the midwest, and is one of our new regular callers.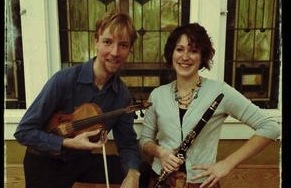 Tuesday, April 14th
Convolution with Ken Gall
Mean Lid Ben Smith and Coffee Zombie Dianna Davis draw from minimalism inspirations and such genres as Middle Eastern, Irish, swing, and free improvisation, while Ken Gall calls. "Really fast and efficient, delivering good dances with good humor. No BS, no ego," says Sam Bartlett.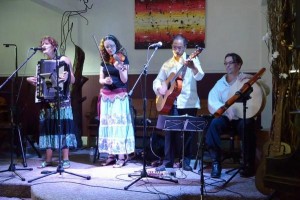 Tuesday, April 21st
Troika with Adam Nichols
Three quarters of Troika bring the rich and diverse landscape of Eastern European & other folk musics to American contra dancers.  Dianna Davis' clarinet, driven forward by the punchy rhythms of Mario Joven's guitar and Adam Riviere's doumbek.  Adam Nichols calls.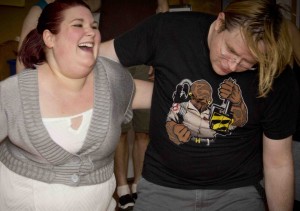 Tuesday, April 28th
Deb Shebish and Johnandrew Bellner with Open calling
Deb Shebish and Johnandrew Bellner are one of Indy's favorite pair of folk musicians, you can often find these two playing Saturday evenings with Hogeye Navvy or playing Irish trad music at one of the Irish pubs around town.
It's Open Calling night, so novice and experienced callers are invited to lead a dance or two.  Please contact Adam Nichols if you're interested, and/or arrive a few minutes early to get on the evening's schedule.