Our contra dance weekend held in Indianapolis, in October. Costumes are welcome Saturday evening, with a grand march & prizes.
2017 October 13th-15th Hoosier Partner contra dance weekend featuring music by Mean Lids and Nova, calling by Seth Tepfer and Michael Hamilton. Location is the Zion Evangelical United Church of Christ gymnasium, 603 N. New Jersey St, Indianapolis
2017 Online Registration not yet available
2017 Registration Flyer not yet available
2017 Schedule with Workshops not yet available
2016 – October 21 – 23 Gypsy Moon Ball featuring music by Party of Three, calling by Cis Hinkle. Also music by Mulberry Street, and calling by Bradley Smith  
2015 – October 23 – 25 Gypsy Moon Ball featuring music by Gallimaufry & Turnip the Beet, calling by Susan Kevra & Maggie Jo Saylor.
2014 – October 24 – 26 Gypsy Moon Ball featuring Dana Parkinson, the Mean Lids, the Ripples, and Lauren Peckman. Here's Dana:
Previous years: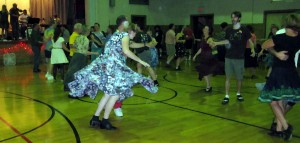 2013 – October 18 – 20 Gypsy Moon Ball
2012 – October 26 – 28 Gypsy Moon Ball