Our contra dance weekend held in Indianapolis, in October. Costumes are encouraged.
2017 October 13th-15th Hoosier Partner contra dance weekend featuring music by Mean Lids and Nova, calling by Seth Tepfer and Michael Hamilton. Location is the Zion Evangelical United Church of Christ gymnasium, 603 N. New Jersey St, Indianapolis (very near Interstate 65, exits 111 and 112)
After-Party map HERE
2017 Online Registration no longer available – See you at the dance for walk-in registration
(Early registration rates expired October 7, 2017)
2017 Registration Flyer available here
2017 Detailed Schedule for Hoosier Partner weekend available HERE
Orders for T-shirts at $15 each will not be accepted after September 30, 2017.
Accommodations: Hospitality requests with local dancers (note that space is limited) should be sent to indycontra@gmail.com. On hotel searches for destination use Indianapolis, Speedway and/or Indianapolis Airport. Note that Carmel, Fishers, Plainfield, Avon are in neighboring counties (Indianapolis is in Marion County). Bed and breakfast places, AirBnB and similar accommodations may also be available.
---
2016 – October 21 – 23 Gypsy Moon Ball featuring music by Party of Three, calling by Cis Hinkle. Also music by Mulberry Street, and calling by Bradley Smith  
2015 – October 23 – 25 Gypsy Moon Ball featuring music by Gallimaufry & Turnip the Beet, calling by Susan Kevra & Maggie Jo Saylor.
2014 – October 24 – 26 Gypsy Moon Ball featuring Dana Parkinson, the Mean Lids, the Ripples, and Lauren Peckman. Here's Dana:
Previous years: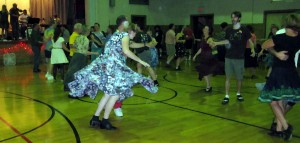 2013 – October 18 – 20 Gypsy Moon Ball
2012 – October 26 – 28 Gypsy Moon Ball