Indy Contra is excited about our new location beginning October 1, 2019. We dance at Riolo Dance located at 502 N. Capitol Ave, 46204. The studio is located on the 2nd floor.
Never been to Riolo before? Check out this illustrated step-by-step guide to location, parking, and finding our new dance home.
While Riolo is located off N. Capitol Ave, our free parking lot is located off Michigan Ave. Once you cross Capitol Ave, turn right onto Roanoke Street. It's a narrow street, so keep your eyes peeled.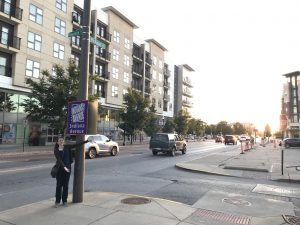 Even though this sign says otherwise, turn right into the raised parking lot off Roanoke St. This lot is free to us after 5pm.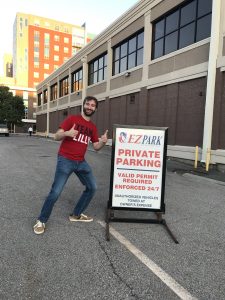 Once you've parked, head towards Capitol Ave and turn right.
The door to Riolo Dance is about halfway down this building. It's easy to miss, but the door is labeled, and we'll have an Indy Contra sign posted.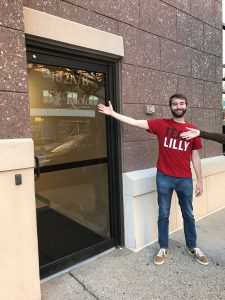 Once you're inside, head to the 2nd floor. The elevator is on the right, and the stairs are further down the hallway on the left.
Once you've reached the 2nd floor, look for Indy Contra signs. Riolo Dance has two dance studios, and we dance in the studio on the right. Come inside and dance!