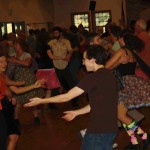 We had a full weekend of contra dancing (Friday – Sunday November 5 – 7, 2010)
to Perpetual e-Motion, and Diane Silver; Coffee Zombies, and David Ernst!
Dance schedule:

Friday evening
8 – 11 pm contra to David Ernst & Coffee Zombies at Zion Evangelical United Church of  Christ (downtown Indianapolis)
The rest of the weekend, Saturday & Sunday, we danced at Camp Belzer (northeast Indianapolis).
Saturday afternoon
1:00 – 2:00 open waltz & couple dance with Dianna Davis & Friends
2:00 – 4:15 advanced contra for experienced dancers (all other sessions are dancing for everybody) with Diane Silver & Coffee Zombies
4:30 – 6:00 contra for all with David Ernst and Perpetual e-Motion
6:30 – 7:30 pitch in dinner – please bring food!
Saturday evening
8:00 – 10:00 contra to David Ernst & Coffee Zombies
8:30 parade and costume judging (prizes for funniest, most gypsy-ist, etc., but costumes are not required!)
10:15 – 1:00 a.m. contra to Diane Silver & Perpetual e-Motion
1:15 – 4:00 a.m. party; showers available for those staying in the cabins & camping
Sunday
9:30 – 11:00 open waltz
11 – 12 couple dances to recorded music
11:00 pitch in brunch (IndyContra & local dancers provide basic items; pitch in contributions appreciated)
12:00 – 3:00 contra to Diane Silver & Perpetual e-Motion Registration
Register for the whole weekend:
Postmarked after Thursday, October 14, or at the door, registration is still just $55 for 26 and older, $40 for 25 and under, and $5 per child.
Too late to mail? Email to IndyContra@gmail.com is appreciated so we know how much stuff to buy, but come, even if you don't decide until the day of the dance. The more dancers, the merrier!
Scholarships (discounted or free admission) are available for help with setup and cleanup, kitchen work, etc.
WALK IN WELCOME! Weekend is not gender balanced, and all are welcome!
Individual sessions, age 26 and up (take $5 off per session for 25 and under):
Friday evening $20
Saturday afternoon $10
Saturday evening $20
Sunday $15
Only $5 per child per day. (12 or under)
Here's the flier with registration form
Make checks payable to ITMDG, and mail to P.O. Box 44284, Indianapolis, IN 46244
Housing:
Cabins and tents
Bunks available in shared cabins that sleep ~ 20 people, $5/person/night, both Friday and Saturday nights. Bring your own bedding, pillow, etc. Tent camping FREE. Showers on site will have been turned off for winter, but showers will be available nearby Saturday & Sunday mornings, and at our after-dance party Saturday night. Bring a towel!
Homes
IndyContra members will host a small number of dancers in their homes. Please specify number, bed or floor space, allergies, pet likes & dislikes, and special needs. Space is limited, so contact us early!
Hotels
Hotels including these are 5 miles, or 2 highway exits from the scout camp, which is 1.6 miles east of I 465 Exit 40, near Fort Harrison State Park. There are examples, not recommendations. Costs are estimates based on 2 adults, booking July 2010, using the company's website, and do not include taxes:
Days Inn and Suites Castleton. 8275 Craig St., I-69 & 82nd St; I 465 exit 37
1 king $44; 2 queens $48; king jacuzzi $110
Candlewood Suites Castleton. 8111 Bash, I-69 & 82nd St.
prices unavailable; complete kitchens, 24 hour food "honor store"
Drury Inn and Suites Northeast, Castleton. 8180 N Shadeland Ave., I 465 exit 37
1 king $90; 2 queens $100; king jacuzzi $110; 2 rooms suite 2 queens sleeper $150
Hampton Inn Castleton. 6817 E. 82nd St.; I 465 exit 37
1 king with sofabed or 2 doubles $99
Ramada Indianapolis, Lawrence. 7701 E. 42nd St., I-465 exit 42
2 doubles or 1 king, $65; king jacuzzi, $125
Staybridge Suites – currently $50/night on Hotwire.com.  Look for the "STE" icon. Parking, pool, wifi, etc. free. Reviews on Trip Advisor.
Discount hotel sites
Better Bidding provides reviews, what people paid in the past, etc., for hotels booked on Hotwire and Priceline.
On Hotwire's Indianapolis area map, "Fishers NE Indianapolis" is the closest to the scout camp (just to the north), and "East Indianapolis – Lawrence" nearby to the south.Hotwire has a 3 star hotel in the Fishers area for about $50.  This is  Staybridge Suite. Look for the STE icon (for "suite"). It has free pool/hot tub, parking and high speed wireless, buffet, etc. Also laundry (presumably not free.)
Priceline's nearest low price hotel is $50 for a 2 star Ramada.
Room Saver and Travelcoupons.com offer walk-in only coupons.
Questions? Please contact the housing coordinator, Ken, at 317-488-7751 or write kenthecaller@indy.rr.com
Travel & Directions:
Friday's dance is at Zion Evangelical United Church of Christ, 416 E. North St., downtown Indianapolis, about 2 hours from Cincinnati, Dayton, Louisville, or Urbana. Here are maps from Google and MapQuest. Street parking is free, but will be crowded because there's an event at the Murat Theatre. Try to park East or North of the church.
Before driving, you may want to check the official Indiana Dept. of Transportation site or the Indy Star traffic for the most current conditions.
For dinner, IndyEthnicFood.com has many well reviewed ethnic restaurants nearby, including Cajun, English, southern, Spanish, Indian, & Mediterranean; use zip code 46204. Indianapolis Convention & Visitors Association has attraction & restaurant maps and coupons for nearby restaurants & shops.
Saturday and Sunday we dance at Camp Belzer 6102 Boy Scout Rd, northeast Indianapolis, off 465, exit 40. Here are maps from Google and MapQuest.
For restaurants nearest the scout camp, limit IndyEthnicFood.com for zip code 46226; well reviewed choices include German, Japanese, Korean, and Salvadorean. Also nearby, 46219, the zip code to the south, and 46250, to the north, also have interesting places close-ish to the highway, including Afghani, Chinese, fusion, Thai, and Vietnamese.
FAQ and Contacts:
Please bring clean, non-marking shoes!
Costumes are not required for Saturday night, but there will be prizes!
Children who can dance are welcome; should know right from left and have some dance experience! We do not have childcare for non-dancing kids.
Advanced contra for experienced dancers will be challenging and / or involve little teaching, and not fun for friends who are new to contra. But even those who are absolutely brand new are welcome Friday night, at 4:30 or later Saturday afternoon & evening, and all Sunday. All other dancing is contra dancing for all
No pets. (Sorry!)
Dinner Saturday and brunch Sunday are "pitch in" (pot luck). We especially appreciate substantive contributions from local dancers. Kitchen stove, oven, microwave, and fridges are available.
Cabin housing is a bunk in a shared room. Period. No sheets, pillow, or blankets. Possibly mixed gender. And the showers are at a condo a mile or so from the dance, available during the party. But if it rains, you may be able to take a cold shower on site!
Scholarships are available for help with setup and cleanup, kitchen work, etc. If you have time to help and want a discount, or need a discount and have time to help, we want you!
Indianapolis is in the Eastern Time Zone, observing Daylight Saving Time. We are on the same time as Cincinnati & Louisville, but are 1 hour ahead of Champaign-Urbana & St. Louis.
We are about 2 hours drive from Cincinnati, Dayton, Louisville, or Urbana.
Photos from previous years are on Picasa.
Contacts (have more questions?):
email indycontra@gmail.com
Housing: call Ken Gall, 317-488-7751 or email kenthecaller@indy.rr.com
Mailing address: ITMDG, PO Box 44284, Indianapolis, IN 46244