As always, Indy Contra will welcome any who arrive at Gypsy Moon Ball, whether or not you pre-registered. We take cash and checks for admission.
We are at Zion Evangelical United Church of Christ, 416 E. North St., at the corner of New Jersey St. in downtown Indianapolis, 46202.  It is across the street from the Murat / Old National theater.
Parking is free for you in the Zion Evangelical United Church of Christ lot, which is on New Jersey Street and will be staffed Friday and Saturday evening to keep it from filling up with people attending other downtown events. Just tell them you are attending Gypsy Moon Ball and they will let you in.  We appreciate the church volunteers and staff who are giving their time for parking, cleaning, and other tasks so we can dance this weekend.
Here's the "final" Gypsy Moon Ball 2014 schedule:

Friday (10/24):
8 p.m. to midnight – Contra dance with Mean Lids & Dana Parkinson
Saturday (10/25):
10 – 10:50 a.m. – Intermediate waltz with Lauren Peckman, OR Feel good yoga for dancers with Lisa Reeves
11 – 11:50 a.m. – Dancing musically with Matt Turino (of Mean Lids), OR Contra dance calling with Dana
12 noon -1 p.m. – Fancy flourishes with Dana & The Ripples, OR Band workshop with Ben Smith & Miriam Larson (of Mean Lids)
1 – 2 p.m. Lunch Break
2 – 3 p.m. – Funky fresh contras with Lauren &  Mean Lids
3 – 4 p.m. – It's all About the Flow contras with Dana & The Ripples
4 – 4:30 Waltz break with The Ripples
4:30 – 5:30 p.m. – Formations For-schmations contras (triplets, crazy diagonals, etc.) with Lauren & The Ripples
5:30 – 7 p.m. – Dinner. Hall closed. Change into costumes!
7 -8 p.m. – Couple dances with Mean Lids
8:00 – 10 p.m. – Contra with Lauren & The Ripples
8:30 – Costume contest judging. Music by The Ripples, judging by Mean Lids, parade led by Dana & Lauren.
10:15 p.m. – midnight – Contra with Dana & Mean Lids
midnight – ? a.m. – Party at Doug & Fiona's
Sunday (10/26):
10:30 – 11 a.m. – brunch & waltz to recorded music
11 a.m. – 12 noon – brunch & waltz with live music by Dianna Davis & Kristen Planeaux
12 – 3:30 p.m. – contra with Dana & Mean Lids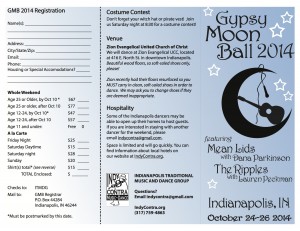 GMB 2014 registration front
For costs, details, schedule outline, or to order a t-shirt, get your registration flyer here as pdf, or jpg page 1 (form) and page 2 (schedule & t-shirts).
Gypsy Moon Ball 2014 is Friday – Sunday, October 24 – 26, 2014.
Music by Mean Lids & The Ripples. Calling by Dana Parkinson & Lauren Peckman. Also workshops & open waltzing.
All are welcome. We do not gender balance or require advance registration (we offer a discount for registering early, but welcome walk-in dancers for any or all of the weekend).
Everyone must carry in clean shoes! No shoes worn outside.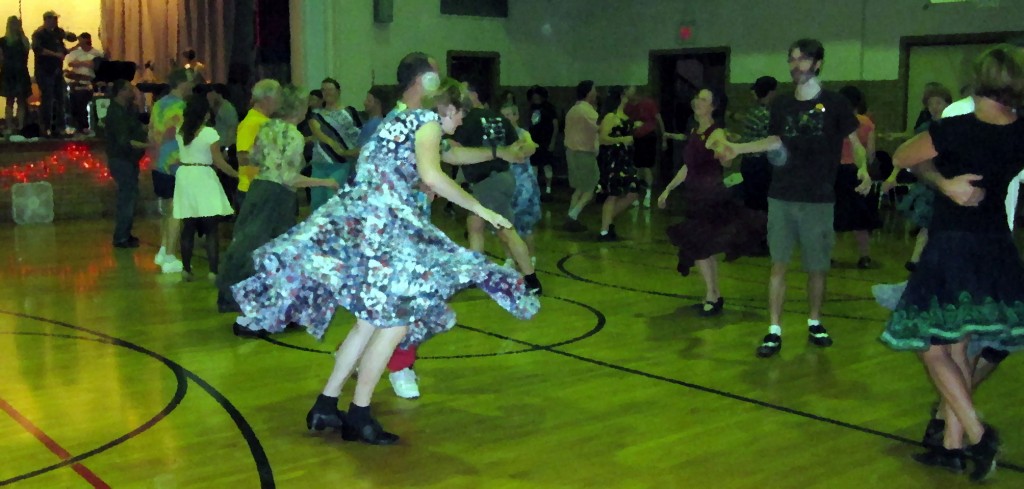 To save $$, please print and mail this 2014 GMB registration form Postmarked by Friday, October 10, 2014.
Hotels:
The dance, at Zion Evangelical United Church of Christ, is very near I 65, exits 111 or 112 (depending on direction) and I 70 exit 83.
On Hotwire, three star hotels in the "Indianapolis Intl Airport IND East area," "South Indianapolis area," and "Speedway" are about 15 – 20 minute drive from the dance, and as of August going for about $50 – 80/night.
On Priceline, two star hotels like La Quinta, Quality Inn, and Microtel near the airport are about $60/night.