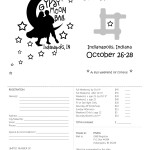 Get your PDF or jpg (p. 2 jpg with meal info) here!
Walk in for all or part of the weekend is great! Come for what you can, we welcome everyone, don't gender balance & everybody's welcome to dance with anybody (and everybody)!
Please email Indycontra@gmail.com ASAP to request or volunteer housing, offer to help with stuff, etc. We really extra special appreciate snacks! (Due to board of health regs there is no pitch in, but we will provide continental breakfast Sunday.)
We dance October 26 – 28, 2012, to music by Anadama and the Coffee Zombies, and calling by Rebecca Lay & Darlene Underwood. We'll be at Zion Evangelical United Church of Christ, with plenty of nearby restaurants, free parking, space for jamming and snacking, and hour after hour of dance. (tourist info, maps, restaurants here)
Here are Rebecca & Anadama at Glen Echo. Everybody's all bundled up because it's January & the hall's cold:
Schedule:
Friday evening:
7:30 p.m. Hall & registration open.
8 – 9:15 p.m. Contra (Rebecca Lay & Anadama).
9:30 – 11 p.m. Contra (Darlene Underwood & Coffee Zombies).
Saturday:
10:30 a.m. – noon: Swing (Doug & Fiona) or waltz (Lauren Peckman).
Noon – 1 p.m. Lunch time.
1 – 3 p.m. Like butter: dances that flow contras (Rebecca & Anadama).
3:15 – 4:45 p.m. Contra (Frank Buschelmann & Hoosier Hill Boys) or intermediate calling (Rebecca).
4:45 – 7 p.m. Dinner on your own. Hall closed.
7 – 8 p.m. Couples dances to recorded music.
8 p.m.- 10:15 p.m. Contra (Darlene & Coffee Zombies).
10:30 – 1 a.m. Contra (Rebecca & Anadama).
1 ~ 4 a.m. Party (directions available at the dance).
Sunday:
10:30 a.m. – 12:30 p.m. Waltz (Entwyned) & continental breakfast  (bagels, pastries, cottage cheese, yogurt, boiled eggs, coffee, tea, & juices)
12:30 – 1 p.m. Waltz (recorded music).
1 – 3:30 p.m. Contra (Rebecca & Anadama)
3:30 p.m. cleanup & go home & share photos and video on facebook!
Here's a housing bargain: Hotwire.com has a "3 star" downtown Indianapolis hotel with "Fitness Center, Laundry Facilities (self-service), High-Speed Internet Access" for about $57. It's almost certainly La Quinta, 0.8 mile from the dance, all smoke free, and with decent TripAdvisor reviews (though most say it's pretty basic).
Both Hotwire and Priceline have multiple hotels with rooms for $40 and up per night, and we can find floor space & a hot shower for several more dancers. Contact us asap!