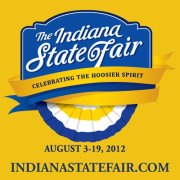 Just a couple of weeks until we contra at the Indiana State Fair. We're there early this year, Tuesday August 7th, dancing on the "Ford Dance Stage," in the southeast corner of the fairgrounds. It's the same place we've been for years, on the east end of Main Street, near entrance #6, but with a new sponsor.
If you're a member of Indy Contra, BOTMDG, or another nearby contra dance group you can have a pass for free fair admission that day – if you promise to come dance! We're distributing passes at weekly dances between then & now.
Arrive by 6 and meet at the stage to go share deep fried fair food, or just hang out and watch the dance groups before us.